Weedbuster Day - Sunday, 18 Oct 1998
Following previous years' successes, Westlake Riverhills Bushcare Group (WRBG) will again join the annual statewide Weedbuster Week, to be celebrated from 11th to 18th October.
WRBG spokesperson Ed Parker said this next event is part of the annual Weedbuster Week. It is co-ordinated by the Department of Natural Resources and supported by Greening Australia, Brisbane City Council and numerous Landcare and community groups throughout Queensland.
It focuses on community education to highlight the devastating problem of weeds or pest plants.
"Community awareness of the role we can all play in weed management in our local bushland areas is an important part of Weedbuster Day," Mr Parker said. "All residents interested in learning about and assisting rehabilitation of local bushland are invited to attend."
At the Westlake site, WRBG activity will focus on clearing Guinea Grass, and tree planting a buffer of native plants around a magnificent 80+ year old fig tree.
Sunday, 18 October, 1998
8:00 - 10:00am
Weedbuster Day at 'The Fig Tree'
cnr Westlake Dr/Tennent St, Westlake.
Bring hat, strong shoes, sunscreen, drink, gardening gloves (if available). Bring something for a shared morning tea and picnic afterwards.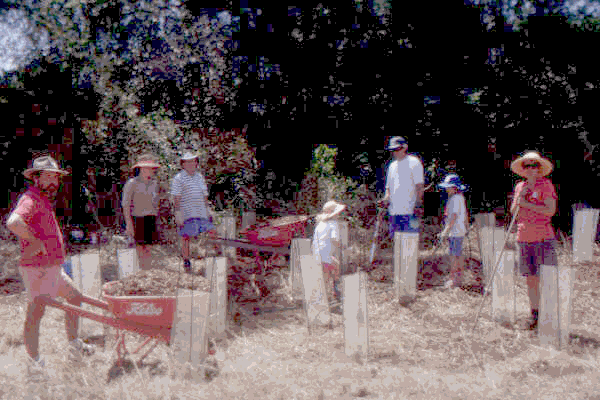 New members welcome
While WRBG welcomes new members to any of its activities (see calendar of events later), Weedbuster Day is an annual event where special attention is given to encouraging local residents to get involved and learn about their local bushland. Information kits will be available for young and old, plus give-aways for the kids.
Why not join WRBG for a fun morning of learning and tree-planting. Come along and join fellow local residents caring for their local environment - Sunday, 18 October, 1998.

Riverside Parks Strategy
Brisbane City Council is undertaking a study leading to development of a strategic plan for Centenary Riverside Parks. WRBG is supportive of this study, which in part is in recognition of the under-provision of parks in the Centenary Suburbs.

A community consultation meeting was held in May 1998, attended by a number of WRBG members. Following a public display of draft plans at Mt Ommaney Library in late May/early June, WRBG submitted a comprehensive written submission. WRBG committee members joined Centenary Riverfront Advisory Committe (CRAC) members and other interested residents in a further briefing meeting in mid August.

The original fast-track timetable has been extended to allow greater public participation. WRBG awaits the outcome of this study with keen interest.

Bird of the Month
The Crested Hawk, or Pacific Baza (Aviceda subcristata) is this newsletter's bird of the month. An individual of the species invited our attention at a recent working bee, from its perch high in the Eucalypt canopy above our work site. It also invited the attention of Pied Butcher Birds who sought to harass the hawk.
The Pacific Baza, as it is now more generally known, is a noble-looking bird distinctive for its barred abdomen and its crest feathers on the back of the head. Its known range in Australia is within 300 km of the coast along the eastern seaboard, as well as at Fitzroy River, WA and in near Darwin in NT (Slater 1970).

Paddlings
at Westlake Riverfront Bushland by Maree Norris
Silently and serenely, our pelican friend glides along the smooth water. Sandra and I in our kayaks, float along behind him privileged to be entering this precious world along the river's edge. Flowering melaleucas drape overhead and mangrove plants with delicate lily white flowers signal the arrival of Spring. Our friend with graceful ease and such power rises into the air – his keen eyes searching for fish below.

Low tide opens another world of rock shelves, fallen tree trunks, craggy tree roots, lizards sunbaking and Ibis picking in the mud. Sandra, an artist, is fascinated by the textures and swirls of colours in the waterworn rock that only nature can paint. Suddenly a tiny duckling careers into the water, gathers itself and tears back into the reeds with Mum. We laugh at its comical antics.

Old Man Fig stands defiant and proud with 30 species of native trees beneath his protective canopy. Can he withstand the impact of human ignorance for another 100 years? We must treat him with the utmost care and respect.

I show Sandra the unique Blackbean Grove at the water's edge struggling to maintain their existence. They are unique in our bushland and look quite spectacular with their shimmering leaves. With the canopy of grey gums and blue gums in the background this section of the river is natural and beautiful. We reluctantly turn our boats downstream to go home.
We turn the bend to paddle back to Jindalee boat ramp – past the many intrusive pontoons, past the backyards of people who replace mangroves with concrete and exotic plants, past the orange monstrosities on top of Mt Ommaney, past the noisy ski boats in the Jindalee Reach. Don't allow anyone to repeat these errors of the past.

Our Westlake Riverfront Bushland is priceless - protect it at all costs!

Bushland Cleared for Subdivision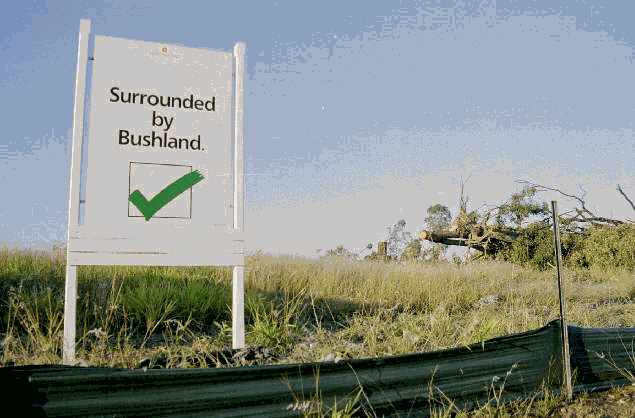 ..... Not anymore!

WRBG's planning in the lead-up to this year's Weedbuster Day, was overshadowed by the commencement of subdivision works on about 10th September between Tennent and Callabonna Streets, Westlake abutting riverfront bushland.
Three or four days work saw the total obliteration of mature trees and bushland regrowth on the subdivision site. The clearing also involved significant incursions by up to 20 metres across the boundary into proposed bushland park. The Weedbuster Day planting site is within metres of the clearing.

While WRBG recognised the inevitability of the subdivision, members were horrified and dismayed at:
the totality of bushland clearing;
the major earthworks operation which could only be described as 'soil mining';
the incursion and clearing of mature trees in the proposed bushland park, outside the subdivision boundary; and
WRBG, as a bushland care group under BCC's Habitat Brisbane, spending many hundreds of hours of voluntary work in the abutting bushland over the 5 years, was not extended the courtesy of prior consultation.

View from Gidgi Place (remnant riverfront bush in background)
In 1993, we had the opportunity to provide input which achieved a harmonious win-win solution to the vexed issue of planning the interface between the residential area and the bushland with minimum impact on the bushland.
It was disappointing that the efforts of a voluntary bushland community group, operating under a Council program, can be so marginalised through bureaucratic processes that have ignored the interests of the community in the recent events.
Residents will have read various items in the local press, including comments by Cr Tim Quinn, but at the time of printing no satisfactory reply direct to WRBG has been received in reply to our facsimile and telephoned representations.
Wolston Creek - the forgotten waterway
Industrial subdivision
Brisbane City Council earlier this year approved a subdivision by Australand for the extension of the Sumner Park industrial estate to the south side of Bullockhead Creek, a tributary of Wolston Creek. This will mean further clearing of a large tract of bushland, known to be a home to wallabies and kangaroos. SORB lodged an objection to the proposal when it was advertised in January last year. From the information available to SORB, it is not yet clear what measures are being taken to protect the waterway environment.
Rubbish dumping
Away from the public eye, someone must have thought it was fair game to dump building rubbish on the southern bank of Wolston Creek, about 100m from its confluence with the Brisbane River. Unconfirmed reports suggest the rubbish came from the DPI Tick Research Station but at the time of going to press the matter was still being investigated.
Vegetation survey
On the positive side, WRBG committee member Ed Parker joined DNR staff Ron Larson (Treecare) and Ray Fitzsimon (Waterways) in a past botanical survey. This survey in December 1996 along the upstream portion of Wolston Creek indentified some 50 native species. The information has been incorporated in WRBG's database of local flora.
Potential parkland
Wolston Creek could well be described as a hidden treasure. Hidden because it is not readily accessible to the public; a treasure for its riparian bushland and recreational opportunities. This creek runs a meandering course for some 1.5 km from the confluence of Bullockhead and Sandy Creeks south of the Sumner Park industrial estate, crossing under Wacol Station Road before continuing its course for a further 2.5 km south of the suburb of Riverhills to outlet into the Brisbane River south of Sumners Road. Most of the land is currently under State Government ownership.
The natural conservation potential of the creek's waterway environs are under threat from a number of sources such as weed invasion (particularly Chinese Elm), rubbish dumping and subdivisions (see above articles).
The values of the Wolston Creek waterway is recognised in various planning processes of BCC. The Brisbane 2011 Plan (BCC 1996) identifies it in the 'Green Space System' while the more recent Western Gateway Strategy and LAOP (Local Area Outline Plan) indicates that further subdivision south of the existing Riverhills suburb is not a preferred use. It is also expected that the BCC Centenary Riverside Parks Strategy (see article earlier) will recognise the value of this area for future public open space and passive recreation.