Weedbuster Day
A good turn-up of local residents supported Westlake-Riverhills Bushcare Group (WRBG) with its Weedbuster Week working bee on Sunday, 18 October 1998.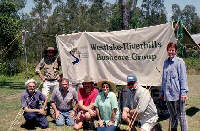 Weedbuster Week in Queensland is co-ordinated by the Department of Natural Resources and supported by Greening Australia, Brisbane City Council and numerous Landcare and community groups throughout Queensland.

Photographed in front of our new banner are some of the crew who attended this year's Weedbuster Day.

WRBG's activity focussed on clearing Guinea Grass, and maintaining a buffer of native plants around a magnificent 80+ year old Fig Tree.

The site of the work was at Tennent Street, Westlake, where the Fig Tree is a remnant of the original native vegetation at the riverfront site. The Fig Tree was featured in June this year on the television program Totally Wild.

A glimpse of the Fig Tree, Ficus platypoda - pen and ink drawing by Frank O'Shannassy (below).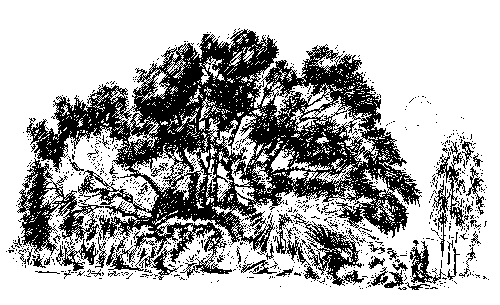 Invitation…

Westlake-Riverhills Bushcare Group invites

members, friends and visitors to our…

Final gathering

& breakup for 1998

Sunday, 6 December

at Balaton Street, Westlake

6:00 – 8:30am Working Bee

8:30 – 9:30am Break-up celebration.

Refreshments provided.

Bring hat, strong shoes, sunscreen, drink, gardening gloves.

New members and Visitors welcome
WRBG welcomes new members or casual visitors to any of its activities (see calendar of events last page). Come and join your fellow local residents and learn about your local bushland.

Nature Watch
Our involvement in bushland regeneration is part of sustaining or re-creating natural systems. Wildlife depends on availability of diverse natural habitats and native plants are an important part of maintaining such habitats.
In this column we focus on wildlife of our area, with frogs and bird calls being featured this time. Spring Wildflower display
Spring in the bush traditionally heralds wildflower displays in certain vegetation communities. At Pullen Reach, there exist various vegetation communities, ranging from open riparian (or riverfront) forest, through woodlands, grasslands to some patches of closed forest.

In this newsletter we focus upon the woodland forest which exists along the Barcoorah and Nisbet Streets frontage to the Pullen Reach bushland in Westlake.

At Barcoorah Street at the top of the sandstone escarpment, this woodland consists of wattle, Alphitonia excelsa and eucalypt regrowth in the middle and upper storeys. But during spring, this woodland comes alive with a range of wildflowers in the understorey level.

Highlighted in this newsletter are four plants which were observed during this spring, and for which identification was confirmed for us by the Queensland Herbarium.

In this issue of the Newsletter, we also introduce and acknowledge WRBG member Frank O'Shannassy, who has applied his considerable artistic talent to prepare the pen and ink drawings published here.

The first three plants are the white-flowered Pimelia linifolia, the yellow-flowered Velleia paradoxa and a native Panic Grass, Entolasia whiteana. These grow together in clusters in an interesting association near the Barcoorah Street frontage of the reserve.

A fourth species, Jacksonia scoparia, is a medium sized bush scattered more sparsely through the open woodlands, with small bright yellow pea-type flowers.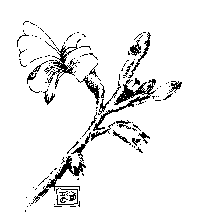 Velleia paradoxa
This is a perennial herb with 5-petalled yellow flowers clustered along 15 to 30 cm tall stems.



Enlarged detail of flower







This drawing depicts the habit of Velleia paradoxa, a herb which is typically about 25cm tall, and has yellow flowers similar to a Goodenia. Both Velleia and Goodenia genuses are in the family Goodeniaceae.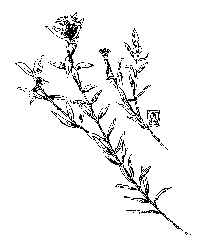 Pimelea linifolia
(Queen of the bush; Flaxleaf Riceflower; Slender Riceflower)

A small white-flowered shrub growing to around 30cm tall in these dry sandstone ridge-top conditions, this Pimelea is a typical Riceflower, with the flowers located in a terminal cluster at the end of the thin, woody stems.

The drawing at left shows the terminal flower cluster and the opposite-leaved stem.


The drawing above depicts the habit of Velleia paradoxa, a herb which is typically about 25cm tall, and has yellow flowers similar to a Goodenia. Both Velleia and Goodenia genuses are in the family Goodeniaceae.

Entolasia whiteana
This is a native Panic Grass which grows in attractive fine tussocks up to about half a metre high.
It provides the predominant ground cover under the regrowth shrubs and trees at Barcoorah Street, and is interspersed with the other plants pictured on this page.


Entolasia whiteana, a native Panic Grass, showing the general habit of the plant and the rhizome by which it spreads. The inset shows a detail of the spikelet seed-head.
Jacksonia scoparia

Jacksonia scoparia (Dogwood) is a shrub or small tree 1.5 to 2.5 metres tall, and favours sandy or, as in our case, rocky conditions. It flowers with small yellow pea-type flowers in late winter to spring. They are sparsely located along the branchlets which have an angled cross section. Its leaves are virtually non-existent, being reduced to scales.

Acknowledgements:
Drawings by Frank O'Shannarssy.
Plant identification by Queensland Herbarium.
Notes by EP. Frogs of Westlake
Frogs are recognised as an indicator of environmental health. Frogs seem to be sensitive to deterioration in environmental health, so presence of frogs in an environ-ment is therefore a positive sign.

However, like much of the wildlife that inhabits our suburban backyards, some frogs that exist there may go unnoticed.

Some frogs are large, such as the widely-recognised Green Tree Frog, and therefore readily observed. Yet others, like the Eastern Sedgefrog are tiny in comparison and will generally be heard rather than seen.

Here are some frogs which have been observed in Westlake backyards with the onset of the summer storm rains.
The Green Tree Frog (Littoria caerulea) is the largest of Brisbane's tree frogs and a mature adult is about 10cm long. Typically it will sit still as a green 'blob' with its limbs tightly folded against its body.

The call of the male is a loud, deep single croak, repeated at intervals.




Striped Marsh Frog (Lymnodynastes peronii), being a prolific breeder. Recognisable by its "tock...tock" call which some liken to a dripping tap, it is brown with light stripes running the length of its body, a length of some 5 to 7cm.

One of the smallest frogs observed in Westlake is the Eastern Sedgefrog or Dwarf Green Tree Frog (Litoria fallax) which grows to a maximum length of just 25mm. It is generally green with distinctive black markings fore and aft of its eyes, with white marking from upper lip to shoulder.


Very athletic, with long legs relative to body, it has a distinctive high-pitched chirping call: "creeeek..pip..pip" or variants of same. It will often be spurred into song by the sound of running water, whether from rain or a hose, even in the middle of the day and is generally heard, not seen.
For those interested in furthering their knowledge of frogs there are several frog enthusiast groups in Brisbane, including:
RANA Frog Group Inc. (Restoring Australian Native Amphibia) - contact no. 3379 1484 (PO Box 310, Inala, 4077).
Brisbane Frog Society - contact no. 3286 1095 (PO Box 7017, East Brisbane, 4169).
Bird Calls
You may have wondered 'what bird is that?' with some of the prominent bird calls you have heard in recent times, along the riverfront and neighbouring residential areas.
Some of common bird calls and their owners are described below.

The Common Koel (Eudynamys scolopacea) lives up to its alternative common names of Stormbird or Rainbird, as a harbinger of the approaching summer rain season.
Its call is the plaintive, monotonous "coo-ee, coo-ee" heard currently at any time of the day, and even at night. The call is penetrating and can be heard at some distance.
The bird itself is the size of a magpie with distinctive red eye. The male is a glossy black, while the female has a black head and neck, with back and wings brown spotted.

The Pheasant Coucal (Centropus phasianinus) exhibits a loud, booming "coop-coop-coop" call, often heard in the early mornings along the riverfront bushland where it prefers to inhabit wooded areas, undergrowth and grasslands.
It is often a distant companion at our morning working bees.

The Pied Butcherbird (Cracticus nigrogularis) has a beautiful flute-like song. It is featured as 'Bird of the Month' on the back page.

Green Corps project underway
WRBG is pleased to report, after many years of lobbying by our Group and the community in general, that we have been successful in attracting funding for upgrading of the bushland walking path along the Pullen Reach riverfront.

The project will have commenced in early December, and will cover the length from Balaton Street to Gidgi Close. The intention is bring the existing pathway to a satisfactory standard, while retaining the bushland 'feel'.

It will include small timber bridges and board walks across gullies and in sensitive areas. Some minor realignment will be necessary in places to improve the grade and for erosion protection.

The project is part of the Federally-funded Green Corps program and was initiated and supported by BCC Habitat Brisbane Liaison Officers, Chris Allan and Mike Noble.

Prior to commencement, a pathway design was prepared by BCC's consultant, Peter Savage. WRBG attended the initial route location inspection.

Postscript:
The project will be featured in BCC Habitat Brisbane's Regenerator newsletter (Summer edition).

Riverside Parks Strategy
As reported in the previous newsletter, Brisbane City Council is undertaking a study leading to development of a strategic plan for Centenary Riverside Parks.

At the last meeting of CRAC (Centenary Riverfront Advisory Committee) on Thursday, 26 November, 1998, BCC's Tony Prineas provided an update on the status of the plan.

A draft of the plan is to be issued shortly for community consultation.

CRAC is co-ordinating responses through six sub-committees established for: aquatic activities, bushcare, bikeways, cultural, family recreation and field sports.

For further enquiries on how you can participate, contact CRAC chair, Noel Wilson on tel. 3376 1412.


Bird of the Month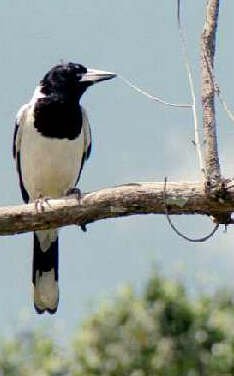 The Pied Butcher Bird goes by the magnificent scientific name Cracticus nigularis.

The species is selected as this newsletter's Bird of the Month because they a common visitor to our monthly working bees.

They may like our company (who wouldn't!), but more likely they are opportunists seeking an easy, fresh feed from grubs unearthed from our weeding .

Slightly smaller than a magpie, it is also known for its beautiful song - a flute-like chorus.
Christmas greetings
WRBG wishes all members and friends the compliments of the season. A big 'thank you' to all those who have supported us through the year. We look forward to meeting you at wind-up on 6 December, and once we re-commence activities in 1999.


Calendar
All welcome!!
Join our happy group of weedbusters and tree planters. Bring hat, strong shoes, sunscreen, drink, gardening gloves (if available).

Sunday, 6 December, 1998
6:00 - 9:00am*
Final working bee for year.
Meet at Balaton St riverfront, Westlake.

Sunday, 6 February, 1999
6:00 - 9:00am*
Meet at Balaton St riverfront, Westlake.

Thereafter, first Sunday of the month: 8:00 - 10:00am.
Venues to be advised.

Enquiries: Maree 3376 5803 (BH) Ed 3376 1389 (AH)

*Note earlier times for summer.

---

Publication of this newsletter was supported by the Brisbane City Council's Environmental Grants Program.

---